News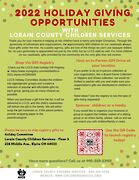 Holiday Giving Opportunities
posted 10/12/22 -- If you are interested in helping at-risk children have a merry and bright Christmas, please review your options for the 2022 Giving Opportunities! Sponsors and donors have always helped make sure the 700 children on our caseloads wake up to a Merry Christmas morning and we can do it again this year with your help!
As a public agency, gifts are one of the things we can't use taxpayer dollars for, so your generosity is appreciated not just by the child, but by LCCS staff as well.
For most children on our caseloads, gifts provided by the community are the only gifts they get.
Please call 440-329-5340 if you have any questions!