News
posted 11/17/20 -- Thanks to our generous community, over 600 children served by Lorain County Children Services will have a present under the tree even if how that present gets there looks a little different this year. With remote working and few gatherings, we have created online opportunities for your staff, organziations, club or family to continue the tradition of generosity in Lorain County. It takes a commuity to raise a child and we are thankful to be part of this community.
Full Story
posted 10/22/20 -- Tristen is super active and even has his own kayak. He loves basketball and wants to be a coach someday. He's really good at math and a very respectful young man. He is in 11th grade and he sure could use a family to see him through all the milestones yet to come.
Full Story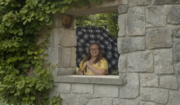 posted 10/13/20 -- Emily is looking for a family who likes to travel - both road trips and resort destinations! She just started high school and has a pretty good idea of what she want to do for a career. She is hoping for support and guidance from a family during these critical teenage years. When she was filming her video it started to rain. Cutest rain/umbrella video around.
Check out Emily's video
!https://vimeo.com/463688386
Full Story
Also Inside