News

posted 9/19/18 -- Throughout Ohio, and especially in Lorain County, there are thousands of children being cared for by grandparents, relatives, and kin often temporarily and sometimes permanently. With September designated as Kinship Appreciation Month we encourage all residents to acknowledge and help support the many families that have stepped up to care for their family's children when their parents could not.
Full Story
Scott Ferris
posted 4/5/18 -- April is Child Abuse and Neglect Prevention Month, which was designated in 1983. Annually, communities across our country focus their attention on the problem of child abuse and neglect, encouraging all citizens to continue our collective commitment to children's safety, permanence and well-being by supporting services that strengthen children and families, becoming involved in your community as a mentor, youth leader, tutor or other volunteer and learning more about the role of children services agencies including how to report suspected maltreatment of children.
Read the full editorial column written by Executive Director Scott Ferris....
Full Story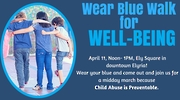 posted 4/4/18 -- Bring your family and friends to Ely Square in downtown Elyria on Wednesday April 11 starting at noon and help support
Child Abuse Prevention Month
. Wednesday April 11 is designated
Ohio Wears Blue Day
in recognition of Child Abuse Prevention Month and the staff and foster parents of Lorain County Children Services are inviting the community to come together on Ely Square in downtown Elyria starting at noon for a lunch time
Walk for Well-Being: Child Abuse is Preventable
. This free event will feature a DJ and healthy snacks for participants. Don't forget to Wear your Blue for Ohio's biggest Wear Blue selfie!
Full Story
Also Inside