News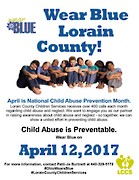 Child Abuse is Preventable: April is Awareness Month
posted 3/19/17 -- April is Child Abuse Awareness Month and Lorain County Children Services has developed toolkits and resources, in collaboration with statewide and national partners, to help you and your workplace or organization spread the word. Visit ChildrenServices.org
WEAR BLUE
page for information on how to get involed with:
Wear Blue Day - April 12 - get your team to wear blue in support of child abuse prevention, snap a photo and post it on our facebook page or yours with #OhioWearsBlue You might see your team featured on the statewide Wear Blue page!
Foster Care Spring Open House - Friday, April 28 from 6pm-8pm at St. MAry's Church. Hosted by curretnly licensed foster parents, this networking event gives you the opportunity to ask questions of the very people who do what you want to do - make a difference for Lorain County's children and families. Open to the public but seating is limited and RSVPS are required - call 440-329-5340.
16th Annual Rally for Kids at Midway Mall, Saturday April 29 from noon to 5 PM. If you are a child serving agency, you can requst a table (free) to distriubute information to the hundrends of families that attend the Rally. Participating agencies are asked to have a craft or activitiy for kids at their table.