News
posted 8/27/19 -- Beginning September 4, 2019, people providing kinship care are invited to participate in a free support meeting from 5PM - 6:45PM. The group will continue meeting on the first Wednesday of each month through May 2020. These free meetings will include dinner, child care and an opportunity to discuss kinship care. RSVPs are required - Please see the flyer for location and registration information!
Full Story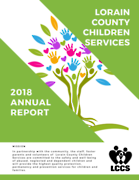 posted 6/3/19 -- The annual report for 2018 is now available. Containing data and narratives on services, conditions that affect children and families, and agency finances, this report will provide valuable insight into our community's priorities regarding its maltreated children along with agency operations.
Full Story

posted 9/19/18 -- Throughout Ohio, and especially in Lorain County, there are thousands of children being cared for by grandparents, relatives, and kin often temporarily and sometimes permanently. With September designated as Kinship Appreciation Month we encourage all residents to acknowledge and help support the many families that have stepped up to care for their family's children when their parents could not.
Full Story
Also Inside