News
posted 11/5/21 -- If you are interested in helping at-risk children have a merry and bright Christmas, please review your options for the 2021 Giving Opportunities! Sponsors and donors have always helped make sure the 700 children on our caseloads wake up to a Merry Christmas morning and we can do it again this year with your help!
Full Story
posted 10/22/20 -- Tristen is super active and even has his own kayak. He loves basketball and wants to be a coach someday. He's really good at math and a very respectful young man. He is in 11th grade and he sure could use a family to see him through all the milestones yet to come.
Full Story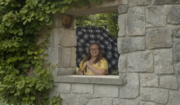 posted 10/13/20 -- Emily is looking for a family who likes to travel - both road trips and resort destinations! She just started high school and has a pretty good idea of what she want to do for a career. She is hoping for support and guidance from a family during these critical teenage years. When she was filming her video it started to rain. Cutest rain/umbrella video around.
Check out Emily's video
!https://vimeo.com/463688386
Full Story
Also Inside