News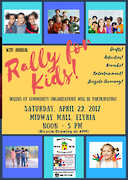 posted 3/29/17 -- All area families are invited to the 16th annual Rally for Kids on Saturday, April 29 from noon - 5 PM at Midway Mall in Elyria. There will be crafts, activities, entertainment, karaoke, a raffle for a boys bike and a girls bike and giveaways from many local agencies, organizations and clubs. The fun and excitement lasts all afternoon so make plans now for the 2017 Rally for Kids. Sponsored by Blessing House, Voices for Children, and Lorain County Children Services. We will see YOU at the Rally!
Full Story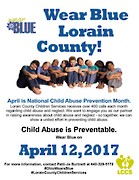 posted 3/19/17 -- April is Child Abuse Awareness Month and Lorain County Children Services has developed toolkits and resources, in collaboration with statewide and national partners, to help you and your workplace or organization spread the word. Visit ChildrenServices.org
WEAR BLUE
page for information on how to get involed with:
Full Story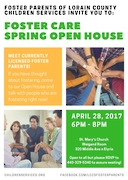 posted 3/14/17 -- Join currently licensed Lorain County Children Services foster parents at their Spring Open House on April 28 from 6PM-8PM at St. Mary's Weigand Room in Elyria. Open to the public but seating is limited so RSVPs are required. Call 329-5340 for more information and to reserve your seat. The Spring Open House networking event gives you the opportunity to meet and talk with licensed foster parents as you go through your own decision-making process to become a foster parent.
Full Story
Also Inside